| | |
| --- | --- |
| | |
---
France - Vimy Ridge, Albert and Somme Tour - Monday 21st March
The Somme Trench Museum, Albert
---
The Somme Trench Museum, Albert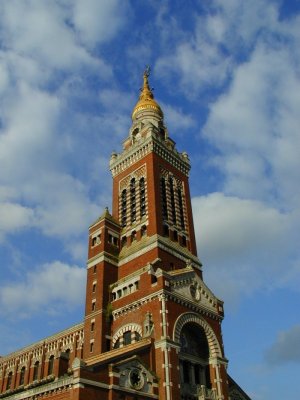 The The Somme Trench Museum is an excellent museum that traces the history of the First World War. It is situated in a series of underground shelters that were used by the local people on many occasions to shelter from invaders. The last time they were used for this purpose was during The Second World War.

The museum is devoted to The First World War as Albert and region suffered greatly during that terrible conflict. The entrance to the museum was easy to find as it was right by the Basilica, which cannot be missed from miles around. It has a golden dome with a golden Mary and Child on its summit (which was badly damaged during WWI and became a local landmark for the allies. Inside the museum there was a series of displays set behind glass in alcoves depicting trench life for the soldiers on both sides.
The museum passage emerged into the museum shop then into daylight in the Albertís Park. Here we looked at (and purchased!) WW1 memorabilia, all part of the Iron Harvest that the fields turn up on a regular basis.
Checking out the memorabilia in the Museum Shop
Albert Park
Charlotte living life on the edge. What next? The big slide in Whitby Park?
However, this was soon interrupted by an incident in the park where the rest of the group were sitting in the sun or playing on the swings & see-saw. Charlotte, who had negotiated all manner of dangerous hazards while growing up Ellesmere Port, decided it was time, at the ancient age of 16, to fall off the children's see-saw. Of course, she blamed her friend for getting off the other end too quick as you would, but sorry Charlotte, this children's see-saw was obviously a step too far for your need-for-fear. Maybe you have to sit on the right hand side in France.

The result is pictured here:
Here she is - stunt girl Charlotte nursing a very painful broken wrist on the boat home. Yes, we sent her back all alone while we went on to enjoy the rest of the trip.

Ok, just kidding. In fact, we spent the next couple of hours getting her into the local hospital who treated her quite quickly, before we picked her up, together with Mrs Knight who sat holding the other hand throughout.
---
---
Updated 8th April 2006 by Mike Royden
The Whitby High School, Cheshire County Council.