---
| | |
| --- | --- |
| | |
Flanders Field, Belgium - Ypres Town Tour
Tuesday 24th March
---
Captain Noel Godfrey Chavasse, VC and Bar, MC, RAMC. (1884-1917)
Brandhoek New Military Cemetery , Vlamertinge
Tuesday Morning: On leaving the Chateau we travelled north into Belgium to the town of Ypres.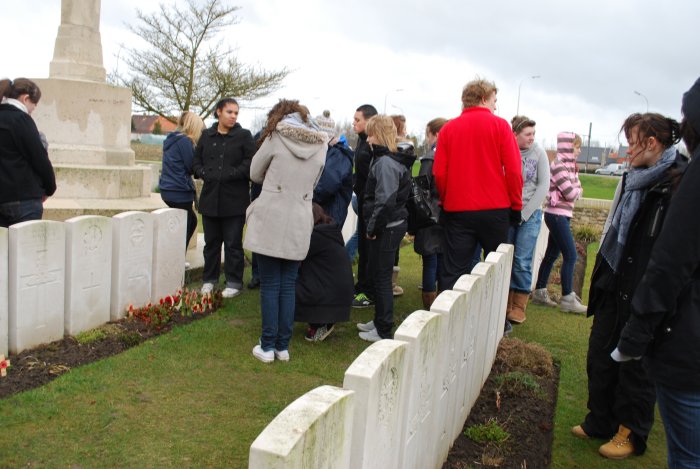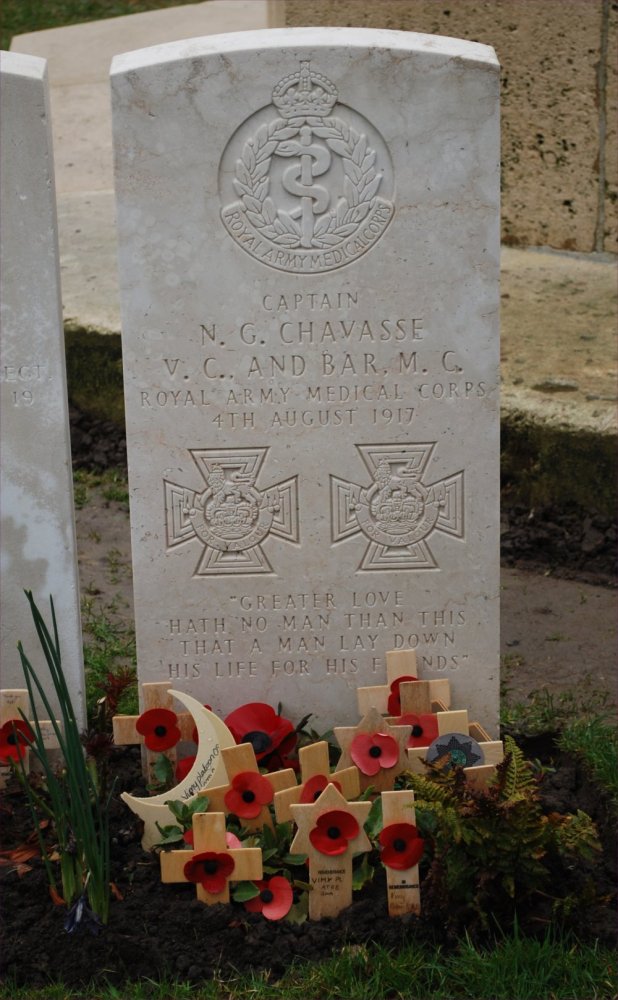 Enroute to Ypres we paused to visit Brandhoek New Military Cemetery in Vlamertinge to search for the grave of Captain Noel Godfrey Chavasse, VC and Bar, MC, RAMC.
Captain Noel Godfrey Chavasse , VC and Bar , MC (9 November 1884 – 4 August 1917)
was a British medical doctor and British Army officer who is one of only three people to be awarded a Victoria Cross twice.
The battlefield of Mametz was to see acts of astonishing heroism by Captain Chavasse, the only man to win the Victoria Cross twice during the Great War. In 1916, Chavasse was hit by shell splinters while rescuing men in no-man's land. It is said he got as close as 25 yards from the German line, where he found three men and continued throughout the night under a constant rain of sniper bullets and bombing. He performed similar heroics in the offensive at Passchendaele to gain a second VC and become the most highly decorated British serviceman in the war. Although operated upon, he was to die of his wounds two days later in 1917.
Noel Godfrey Chavasse was the younger of two identical twin boys born to the Rev. Francis James Chavasse who later became the Bishop of Liverpool. The family moved to the Bishop's Palace at 19 Abercromby Square, Liverpool. Noel and Christopher went to school at Liverpool College.
During the First World War , Chavasse was a captain with the Royal Army Medical Corps, British Army, attached to the 1/10th (Scottish) Battalion of the King's (Liverpool Regiment) .
Chavasse was awarded the Military Cross for gallantry at Hooge in Belgium in June 1915, and was promoted captain in August 1915; on 30 November 1915 that year he was mentioned in dispatches .
Victoria Cross
Chavasse was first awarded the VC for his actions on 9 August 1916, at Guillemont , France when he attended to the wounded all day under heavy fire, frequently in view of the enemy; during the night, he continued searching for wounded in front of the enemy's lines. Next day, under heavy shell fire, he and a stretcher bearer carried an urgent case 500 yards to safety, being wounded himself during the journey. The same night, with 20 volunteers, he rescued three wounded men from a shell-hole 36 yards from enemy trenches, buried the bodies of two officers and collected many identity discs . Altogether he saved the lives of some 20 wounded men.
Bar to Victoria Cross
Medals of Noel and Christopher Chavasse. Noel's medals are top row. Christopher's medals are bottom row.
Chavasse's second award was made during the period 31 July to 2 August 1917, at Wieltje , Belgium . Chavasse, although severely wounded early in the action while carrying a wounded officer to the dressing station, refused to leave his post and in addition to his normal duties, went out repeatedly under heavy fire to attend the wounded. During this time, although practically without food, worn with fatigue and faint from his wound, he helped to carry in badly-wounded men, being instrumental in saving many who would otherwise have died in the bad weather. Chavasse died of his wounds in Brandhoek .
He is buried at Brandhoek New Military Cemetery , Vlamertinge. His military headstone carries, uniquely, a representation of two Victoria crosses.
Chavasse was the only man to be awarded a Victoria Cross and bar in the First World War, and one of only three men ever to have achieved this distinction.
Commemoration
Chavasse is believed to be commemorated by more war memorials in the UK than any other individual. Sixteen have currently been recorded by the UK National Inventory of War Memorials . Chavasse Park in Liverpool City Centre was named in Chavasse's honour. His Victoria Cross is displayed at the Imperial War Museum , London.
Chavasse memorial to VC winners
Abercromby Square, Liverpool
---
---
Updated 8th April 2009 by Mike Royden
The Whitby High School, Cheshire County Council.