On our battlefield visits we try to visit the graves or memorials of ancestors of the students who are on the trip, but in this case it was actually a member of staff - Mr A. Sharples. In fact, we only traced the particular family member the previous evening in Le Chateau where we were staying, where we were able to spend a little time on the internet trying to track down his resting place. Sadly, we discovered that the body of Mr Sharples' relative was never found and consequently he was recorded on the Arras Memorial near to where he was killed in action.

Fortunately, the Arras Memorial was close to our route from Vimy Ridge to Lochnagar on the Somme. It was decided to stop there, and also take the opportunity to track down three men off the Ellesmere Port War Memorial while we were there, who were also recorded on the Arras Memorial.

While the coach and our party waited patiently outside, a small research team went into the memorial, each with a soldier's details to track down. Within a few minutes all had been successfully found, respects paid, and we were on our way to the Somme.
The results of our searches can be viewed on the Ellesmere Port War Memorial Site. In addition it was discovered that Mr Sharples was actually related to another Ellesmere Port soldier also on the same website - see here for the story.
Arras Memorial - Ellesmere Port Soldiers
4318 Private Frank Davies , 1st Battalion Welsh Guards.
Husband of Miriam Davies of 50 Dock Street, Ellesmere Port and Son of John and Mary Davies of 5 Darwin Terrace, Mountfields, Shrewsbury. Killed in Action on 28th March 1918, Aged 29. Bay 1.
240390 Private Edward Jones , 1/5th Battalion Cheshire Regiment.
Son of John & Martha Jones. Killed in action/Died of wounds, 2nd May 1917, Aged 25. Bay 5 and 6.
17487 Private Harry Oakley, 8th Battalion East Lancashire Regiment.
Husband of Beatrice Oakley of 13 Oak Street, Ellesmere Port, Cheshire and Son of James Oakley. Killed in Action on 28th April 1917, Aged 24. Bay 6.
Sam finds Private Harry Oakley on the memorial,
but it is so weathered and worn on this section that the names are very difficult to photograph clearly.
The stories of all three men are presently in preparation, but keep revisiting the site as soldier's biographies are constantly being added.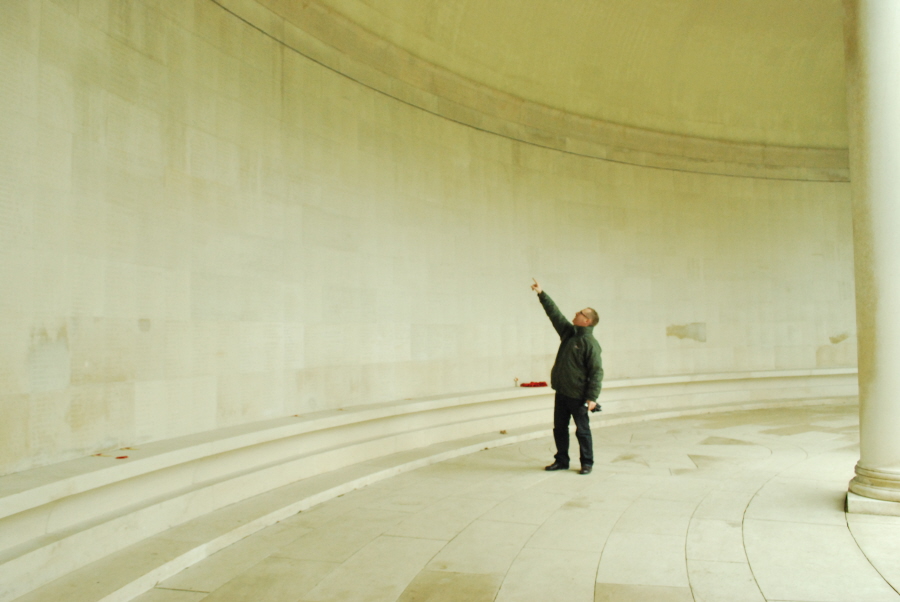 Mr Sharples finds his relative's name recorded high up on the memorial panels
---
The Arras Memorial
Arras Memorial