---
Tyne Cot Cemetery
Today Tyne Cot is the biggest British military cemetery in the world, with 11,956 burials. The panels in the back wall hold the names of 34,888 missing. The two forward (fighting) pillboxes can be seen to the left and right of the entrance. The central (command) box was incorporated into the Cross of Sacrifice, at the suggestion of King George V who visited the site in 1922. The two rear (rest) boxes form the foundations of classical pavilions on either side of the rear wall. The original burials are the less regularly arranged rows above the Cross of Sacrifice. The cemetery was designed by Sir Herbert Baker.
The name is said to have been given by men of the Northumbrian Fusiliers who fought here in 1917, who saw a similarity between a nearby ruined barn and cottages in Tyneside. A cluster of five German pillboxes stood here - just below the crest of the Passchendaele ridge. Immediately in front of the pillboxes was a low lying area that contained some of the worst and deepest mud in the Saiient. The position fell to Australian troops on 4th October 1917.
As the fighting moved towards Passchendaele village, the pillboxes were used as advanced dressing stations, and it was around these that the original battlefield cemetery of 300 burials grew. Tyne Cot lies less than 1 kilometre from Passchendaele and it took the Allies another month to cover the distance. The site grew steadily in the 1920's as small battlefield cemeteries were closed down and the burials moved here, and as bodies were recovered from the battlefields as they were cleared. This latter point explains the unusually high proportion of unidentified burials.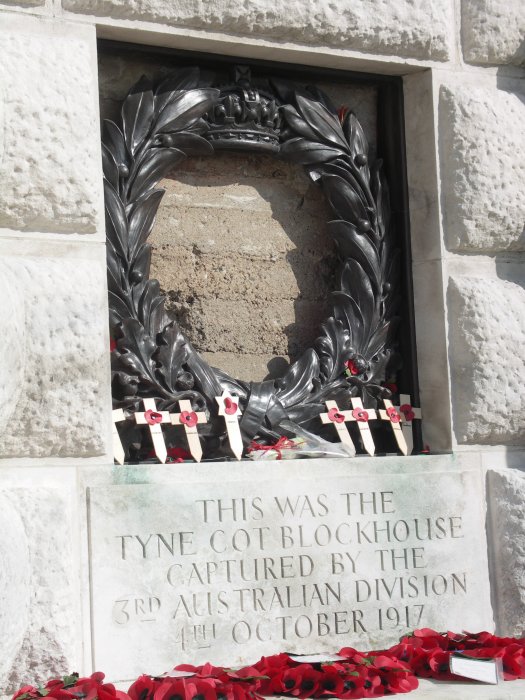 The entrance to one of the circular Memorial Walls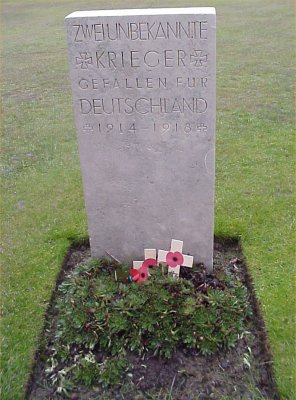 Yet another unidentified soldier - "Known Unto God"
---
Inside the new museum
Looking for one of our more well known local heros - Robert Bousfield, one of the three Bousfield brothers who lost their lives in the war - see here for a full story. He is recorded on the Cheshire Regiment panel behind the group, his name in the centre gap.
Another of our local men off the Ellesmere Port War Memorial
- Private 10161 George Ling, 1st Battalion Cheshire Regiment, Killed in Action 5th October 1917.
(Click to enlarge).



Chloe tracks down another of our local men off the Ellesmere Port War Memorial to record for the website
- Gunner 136418 John Henry Wolverson, 'A' Battery, 160th Brigade Royal Field Artillery.
Killed in Action or Died of Wounds on 21st October 1917.
---
---
Updated April 2013 by Mike Royden