Casualty Details
Name:
BRADSHAW, SAMUEL
Initials:
S
Nationality:
United Kingdom
Rank:
Private
Regiment/Service:
Cheshire Regiment
Unit Text:
1st Bn.
Date of Death:
05/10/1917
Service No:
35353
Casualty Type:
Commonwealth War Dead
Grave/Memorial Reference:
Panel 61 to 63.

Memorial

:
TYNE COT MEMORIAL
Certificate
In Memory of


Private SAMUEL BRADSHAW





35353, 1st Bn., Cheshire Regiment


who died


on 05 October 1917



Remembered with honour

TYNE COT MEMORIAL


Commemorated in perpetuity by
the Commonwealth War Graves Commission

Tyne Cot Memorial, Zonnebeke, Near Ypres, West Vlaanderen, Belgium

The name is said to have been given by men of the Northumbrian Fusiliers who fought here in 1917, who saw a similarity between a nearby ruined barn and cottages in Tyneside. A cluster of five German pillboxes stood here - just below the crest of the Passchendaele ridge. Immediately in front of the pillboxes was a low lying area that contained some of the worst and deepest mud in the Saiient. The position fell to Australian troops on 4th October 1917.

As the fighting moved towards Passchendaele village, the pillboxes were used as advanced dressing stations, and it was around these that the original battlefield cemetery of 300 burials grew. Tyne Cot lies less than 1 kilometre from Passchendaele and it took the Allies another month to cover the distance. The site grew steadily in the 1920's as small battlefield cemeteries were closed down and the burials moved here, and as bodies were recovered from the battlefields as they were cleared. This latter point explains the unusually high proportion of unidentified burials.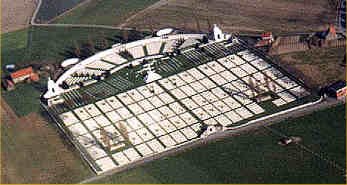 Today Tyne Cot is the biggest British military cemetery in the world, with 11,956 burials. The panels in the back wall hold the names of 34,888 missing. The two forward (fighting) pillboxes can be seen to the left and right of the entrance. The central (command) box was incorporated into the Cross of Sacrifice, at the suggestion of King George V who visited the site in 1992. The two rear (rest) boxes form the foundations of classical pavilions on either side of the rear wall. The original burials are the less regularly arranged rows above the Cross of Sacrifice. The cemetery was designed by Sir Herbert Baker.
Tyne Cot is located north of Zonnebeke (No.1)
Tyne Cot Memorial Wall to the Missing
Cheshire Regiment Panel
---
Return to Soldier's Visited Page
---
www.roydenhistory.co.uk
Visit the Royden History Index Page listing web sites designed and maintained by Mike Royden
No pages may be reproduced without permission
copyright Mike Royden
All rights reserved