Wallace Stanway
The Stanway family of Westminster Grove were very well known in Ellesmere Port as they owned a business called the Stanway Brothers who were cycle agents and later hauliers. Their business premises were located at 47 Station Road, and 54 Whitby Road. Wallace was for some years a prominent dairyman in the Port.
Wallace joined the 18th Battalion Kings Liverpool Regiment, which may have had an old pals concentration from Ellemere Port within its ranks as Private William Lock, Private A Knight and Corporal J Crosby all local men, fought together.
Unfortunately, on 1st July 1916, Wallace was killed. He was wounded soon after going over the top of the parapet of his own trench, but he went on gallantly until a few yards from the German trench he was shot again, this time fatally. He was shot through the head and died instantly.
What's worse, he was expected home on leave just before the offensive commenced - he never got to see his family. He'd only been in France a few months too, which makes you realise how truly awful the war must have been - terrible enough to take a man's life in no more than half a year. He was also said to have deserved a V.C. by his action.
Wallace's name can be seen to this day on the Thiepval Memorial in France amongst thousands of others. I don't know if any descendants of Wallace and Messers are in Ellesmere Port today, but if they are, then I hope they'll remember him as the hero he was.
Rebecca McHugh (Year 9 - 9H -2007)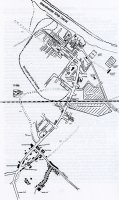 The extent of Ellesmere Port by 1914. Wallace lived at Westminster Grove, Ellesmere Port (click to enlarge)