ELLESMERE PORT WAR MEMORIAL PROJECT
Soldiers of the War Memorial
---
Private Walter Thompson

Regiment unknown
---
Despite extensive research, W.Thompson has yet to be identified on the Commonwealth War Graves Commission database.
Two census records have been retrieved for 1901 and 1911, which show a Walter Thompson living in Ellesmere Port with his parents William and Jane in Merseyton Road, adjacent to the docks. At that time Walter was working as an insurance clerk. No soldiers records appear to exist and the medal card included below has nothing to tie it Walter apart from his name. A short newspaper article in the Birkenhead Advertiser and Wallasey Guardian in 1918 reveals a very tragic state that this poor man was experiencing and he may have passed away not long afterwards;

PRIVATE WALTER THOMPSON

'Formerly assistant librarian at Ellesmere Port, is reported to be recovering from his utter breakdown under the strain of training. Mr Thompson has been bedfast suffering from paralysis and could not be removed from London to a hospital nearer to home. His parents visited him during the Easter holidays, and were told by the specialist that there were new hopes of substantial recovery and that in about five years' time their son will be able to sit up – a fact which has previously been undreamt of – and still get a considerable amount of pleasure out of life.'

Burial and death records have also been researched. He may have been buried in London, but there is a Walter Thompson of the right age who died in Liverpool in 1921, but resting place is unknown.

His family tree is on Ancestry (family group screen shot below), but has less information about Walter and no date of death. Research continues.
Census 1891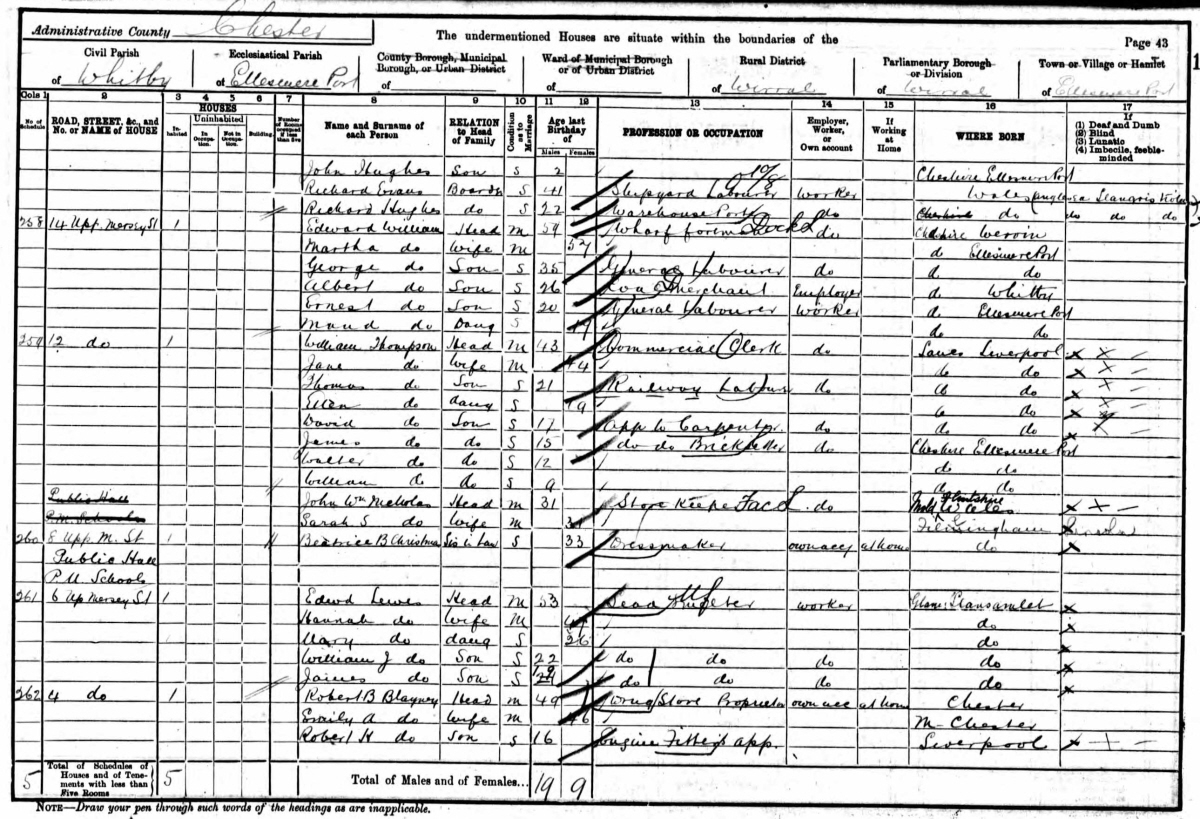 Census 1901
Census 1911
---
---
www.roydenhistory.co.uk
Visit the Royden History Index Page listing web sites designed and maintained by Mike Royden
No pages may be reproduced without permission
copyright Mike Royden
All rights reserved