William Roscoe (right)
Later that same year, while on a slaver bound for Dominica, Rushton became so sickened with the brutality meted out on the slaves by the captain, that he remonstrated with him so forcefully that he was charged with mutiny and threatened with the irons. Almost all of the slaves had fallen victim to contagious ophthalmia (1) which in the appalling conditions had spread like wildfire. Only Rushton took pity on them and tried to bring what relief he could. His actions resulted in his own personal tragedy as he too caught the disease. His left eye was completely destroyed and the right so badly damaged that he became blind.
It is likely, that given the horrendous conditions on slave ships, such a disease was not uncommon. Indeed the great abolitionist, Thomas Clarkson, in his book 'The Cries of Africa', tells a story of a French slaver on which 39 Africans lost their sight and being of no commercial value, were contemptuously tossed overboard.
When Rushton arrived home, his father took him to several of the leading medical men of the day, even the King's oculist, all to no avail. To add to his misfortune he was turned out of the family home, his father now having remarried to a woman who could not tolerate her new step-sons' presence. Fortunately, an aunt took him in and Rushton was to stay there for seven years. During that time he lived on an allowance of four shillings a week given to him by his father. Out of that scanty sum he paid a young boy threepence a week to read to him.
Rushton spent much of his time studying literature, politics and philosophy. He especially loved to read the plays of Shakespeare and the prose and verse of Milton. He may have found additional inspiration in the achievements of the sightless Milton as in 1782 Rushton published his first poem The Dismembered Empire, a political work hostile to the American War. Political developments in America continued to interest him throughout his life. In 1797 he wrote to ex-President George Washington on the subject of Slavery, questioning Washington's blatant hypocrisy in retaining numerous slaves for his own use while fighting England for 'Liberty' and 'Independence'. The letter was returned by Washington without a reply. He wrote in similar fashion to the radical Thomas Paine, author of Rights of Man and Common Sense, questioning the confinement of his libertarian ideals to only the 'white slaves'. (Although Paine had played a role in the abolition of slavery in Pennsylvania in 1780). Paine too turned a deaf ear.(2)
Edward Rushton's views on the slave trade were becoming widely known and during the early 1780s he formed his first association with men of similar outlook - William Roscoe, Dr. Currie, William Rathbone and the Unitarian minister William Shepherd.(3)
Reverend William Shepherd (minister of Unitarian Church Gateacre) Friend and biographer of Rushton. Drawing by J.Dickson (left)
Around this time, his Father, probably trying to make amends for his earlier unkindness, established Edward and his sister in a tavern at 19 Crooked Lane. Rushton was not suited to the work, although he did have the help of his new wife Isabella, and moved on to become Editor of the Liverpool Herald.(4)
In 1787 he published the first of his poems dealing with his abhorrence of the slave trade; The West Indian Eclogues - which was dedicated to Dr. Porteus, the Bishop of Chester, a noted abolitionist. So well known had Rushton's reputation and views become, that when Thomas Clarkson visited Liverpool pursuing his investigations on the Slave Trade, he sought out Rushton and gave him much credit for his contribution to the abolitionist cause.
William Rathbone IV, 1757-1809 (later President of the School Management Committee in 1800) (right)
The following year, his uncompromising attitude led to him leaving his position at the Herald . Rushton this time was concerned with the excessive barbarism of the Press-Gang. His partner on the newspaper, worried about a possible backlash resulting from Rushton's allegations, suggested publishing a retraction, but Rushton refused, and resigned his post. His poem Will Clewline reflects his views on the brutalism of the Press Gangs.(5)
A short while later, he established himself as a bookseller at 44 Paradise Street, but yet again his outspoken views made him enemies and lost valued custom. It was now the period of Revolution in France and Rushton made no attempt to moderate his radical thoughts. Nevertheless, he refused help from his friends while his business floundered, being quite prepared to accept the consequences of voicing unpopular ideals.
At length his business recovered and he was able to live out his life in relative comfort and give his children a good education.(6)
The name of the literary and philosophical society of which he was a member is not known, although taking his friendship with Roscoe and Currie into account, it may have been a fore-runner of their ill-fated radical Debating Society formed by those two gentlemen in 1795.(7) Whatever the name, it was the birthplace of an idea to provide relief for the indigent blind. Rushton described later how the idea originated;
"Early in the year 1790, I regularly attended an association consisting of ten or a dozen individuals who assembled weekly for the purpose of weekly discussion; and one evening, the conversation having turned on the recently established Marine Society, it was observed by a member of that body, Captain W. Ward, that the committee for the management of the Marine Fund had declined the acceptance of small donations. It immediately occurred to me that if an institution could be formed, in Liverpool, for the relief of its numerous and indigent blind, the small donations thus declined by the Marine Committee might be brought to flow in a channel, not less benevolent, and prove of essential service in the establishment of a fund for the benefit of that unfortunate description of the community." (8)
Forcibly impressed with the idea, Rushton mentioned the design "on the moment", and soon after produced two letters on the loss of sight. The first of these bemoaned the plight of the blind person (9) (See Appendix II), and the second, according to Rushton, "contained an outline of an institution, by which it was hoped that the pecuniary distress, and consequently the gloom of the sightless, might in some degree, be alleviated". Rushton planned that,
"... an association should be formed consisting entirely of blind persons; that the names of females as well as males, should be registered and that each individual should contribute a small matter weekly, or monthly, with which, and the benefactions of the humane, such a fund might speedily be established, as would afford to each a weekly allowance in cases of sickness, superannuation etc." (10)
Edward Rushton was, however, conscious of the enormity of such a task and the influence in society that would be required to carry it through;
"This attempt I knew to be singular and that I had no personal influence to recommend it; yet, as the sufferings of the indigent blind were great, and as good might be the result, I was resolved to persevere. There was also another stimulus: The Liverpool Marine Society had originated in a conversation between two individuals at the close of a convivial meeting and the effects of this Society were likely to prove highly beneficial; nor had I forgotten the invigorating remark of Shakespeare 'Our doubts are traitors and make us lose the good we oft might gain, by fearing to attempt'."(11)
Encouraged by such reflections, Rushton placed the letters before his associates in the Society, and the idea of "...mitigating the misery of those hitherto neglected unfortunates, was unanimously approved."(12)
They did, nevertheless, sound a note of caution, advising that the letters should not be inserted in the Liverpool papers until the "...sanction or patronage of certain leading characters could be procured." (13)
With such advice Rushton "...thought it expedient to acquiesce." He began to develop his plan;
"...Among the members of our small but interesting society was a respectable musician of the name Lowe who was himself in a sightless state; pleased with the plan, and having intercourse in the way of his profession with several affluent families, Mr Lowe requested that he might be furnished with copies of the letters, in order to leave them in the hands of a few wealthy individuals, among whom, he was confident he could soon procure patrons for so novel, yet so benevolent, an undertaking. The copies were accordingly made out and Mr Lowe had them in his possession for several months.."(14)
During that time the letters were shown to many "respectable characters" without success. The idea may have foundered there, except that by October 1790 they were shown by Lowe to the Reverend Henry Dannett, the author of the anti-slavery 'Licitness of the Slave-Trade', and incumbent of St.John's. Dannett "...expressed himself warmly of the design..." (15) and enquired after the author of the letters. He then sent Lowe away with a message requesting Rushton's company at breakfast the following morning.
Meanwhile, just a few months previously, Rushton had secured the help of another acquaintance, a blind musician by the name of John Christie of 46 Church Street. Their friendship had been formed some years earlier in what Rushton termed "a fellowship in misfortune" (with respect to their sightless plight), and it was to him that Rushton communicated his idea soon after it was formed. Christie's reaction boosted Rushton's hopes;
"...it was not only warmly approved, but he endeavoured to promote it by showing the copies of my letters whenever he thought they could be communicated with any prospect of success..." (16)
Yet, months passed with no success, even though Lowe had received some "splendid promises".
In the beginning of September 1790, one evening while Rushton and Christie were again discussing how to develop the the idea and gain positive support, Christie hit upon the idea of "...having a place appropriated to the use of the blind, wherein, by gratuitous musical instruction, they might soon be enabled to provide for themselves, which, to a well disposed mind, must ever prove a source of the highest satisfaction..."(17)
Rushton's idea of the institution as a form of charity pension had now been expanded to include a plan to find a suitable place to teach music to the blind so that they could hopefully master an instrument sufficiently well to earn enough money to support themselves. This, they believed, was an ideal solution that would suit all.
Edward Alanson(1727-1823) co-founder of the Blind School and later a member of the management committee
On the 22 September 1790, a letter was written at Christie's request, expanding these ideas, which was sent to a benevolent friend, Mr Edward Alanson, a Liverpool surgeon, appealing for his help and support. (See Appendix III). Several days later, acting upon advice received from Alanson, several manuscript copies were made of the letter and put into circulation. According to Rushton, "...one was left with Mr Gore and another with Mr Billinge (18) in order to be laid in their respective counties; and before I went to breakfast with Mr Dannett, in consequence of the invitation brought by Mr Lowe, I called upon John Christie, procured a copy of the letter to Mr Alanson, and took it with me."(19) Rushton described the meeting;
"I was received with every mark of attention...my letters and that of John Christie had his decided approbation...he expressed himself pleased with the prospect of something being done for the indigent blind; (Dannett) talked of procuring subscriptions and of preaching a sermon on the occasion by which he hoped to obtain a collection of at least forty pounds, which would serve as a fund to commence with, and he appeared particularly anxious to have a meeting of a few individuals, friendly to the cause, some of whose names were then mentioned, in order to discuss a plan, and frame a few regulations for the government of the future institution. After staying for about two hours, I withdrew, leaving the three letters in the possession of Mr. Dannett, and believing, if a meeting were to take place, that the benevolent business would speedily be carried into execution." (20)
On his way home that morning, Rushton called on John Christie eager to inform him of what had gone on in the meeting with Dannett, and showed much excitement at gaining the support of such an influential figure.
A week or ten days later, both men were invited to dine with Mr Dannett. They were not alone in receiving an invitation. Also present were local philanthropists Richard Carson and William Roscoe; the Reverend John Smyth, incumbent of St.Anne's; and their friend Robert Lowe. Two other men were also invited; Mr Alanson the surgeon, who was indisposed, and a Mr Sutton, who, not having made Mr Dannetts acquaintance, thought it to be a mistake and did not attend. Immediately after dinner, Mr Dannett commenced the business by reading Rushton's two letters, and then those of Christie. After passing the letters around the table it became apparent from the ensuing discussion that "...a sheltering establishment for the indigent blind appeared to be the ardent wish of them all..." (21)
There was, however, difference in opinion as to the scale on which the establishment should commence, and as to the employment which would prove the most suitable. Nevertheless, not a single word was uttered against the idea itself.
The idea contained in John Christie's letter was discussed by name as 'Christie's Plan' and the beneficial scheme as 'Rushton's Plan'. The latter was incorporated at that meeting into the whole design and mentioned in the printed plan, which was soon to be published. 'Christie's Plan' was to be the ground work and
"...several rules and regulations were committed to writing during the afternoon, and to these Mr.Roscoe appeared particularly attentive." (22)
It was late in the evening before the company separated and in order that the infant scheme "...might benefit by the observations which had been made during the discussion, it was agreed that the second meeting should not be held 'till after the interval of a week." (23) Accordingly, on the following Monday, (which was most likely October 25 1790), another meeting was held at the house of Mr Dannett. The regulations drawn up at the first meeting were read and after "...some little alterations and ammendations of little moment..."(24) the documents were left in the hands of Mr Dannett, in order that they could be submitted to the press.
At this point we may become familiar with the dispute that subsequently arose as to ho actually founded the School. Such a dispute is not surprising, given the number of gentlemen participating in promoting, discussing and physically working on the idea, all keen to see its fruition. Once the institution was established, much of the initial day to day running was carried out by Dannett, as we shall see. There is no surviving evidence of any further assistance from Rushton, although Christie taught music to the inmates for many years.
Such initial hard work and commitment may have prompted Dannett to wilfully accept acclaim as the sole founder of the institution. His position in the community was of obvious importance - which may also have affected his relationship with Rushton and Christie, the latter actually being in a subordinate role at the Institution. Certainly, by 1793 Dannett attributed the whole idea to himself, as is witnessed in his copper-plate frontispiece of the 'Proceedings of the Committee for the Blind Asylum' in March of that year;
"In the year 1790, the Rev.Henry Dannett, minister of St. John's Church in Liverpool, who had been a frequent witness to blindness occasioned by the Smallpox, reflecting on the great calamity sustained both by the sufferers and the public, formed a wish, that the Blind might be instructed in Music or Mechanical Arts and so be rendered comfortable in themselves, and useful to their country; he wished to make the experiment himself on a small scale; and on communicating his plan to a few friends, they were of opinion that the Public would lend its assistance to carry the scheme into execution on a more extensive scale; In consequence of their sentiments the outlines of it were submitted to the judgement of the Town and Neighbourhood, and a very liberal subscription followed..."(25)
It would appear that Dannett allowed those who did not know any better to assume that he was, in fact, the originator of the idea and founder of the Blind Asylum. It would do no harm, he might have thought, and would certainly help his position both in society and in the running of the Institution. However, in 1804 Dannett made a more public claim (although we do not know what form it took) which finally came to Rushton's notice.
Rushton's reaction was to draw up a detailed account of the early stages and developments as he could remember them, to 'set the record straight'. He was severely critical of Dannett's claims. With regard to the letter of Christie's which Rushton took with him to the breakfast meeting, he stated,
"...this I mention the more emphatically because it has been said, nay even sworn, by Mr Dannett that he never saw the letter of John Christie, nor any other document relative to the Institution previously to its being established. Nor is this the only particular in which Mr Dannett has deviated from the truth. He has stated that "Christie and perhaps Rushton made application to him as being a likely person etc.etc".
Now Christie and Rushton being entirely unacquainted with Mr Dannett never did apply nor had they ever the least idea of applying to him; on the contrary, the application was made by Mr Dannett to me in consequence of the letters which had fallen into his hands as before related...".
Rushton continued with a scathing rebuke,
"...Mr Dannett has also deposed that in originating the Liverpool Institution for the Blind he had no assistance from any being on earth. Now if this statement be not the result of mental imbecility I will venture to say it is one of the most singular and shameless that ever was made..."
He concluded his transcript,
"...thus in a brief, unvarnished way I have given the origin of the Liverpool Institute for the Blind. If I have stated falsehoods, those falsehoods may readily be refuted by an appeal to living testimony" (Roscoe and Christie for example, were still alive) "...if I have adhered to the truth, the deposition recently made by the Rev. H. Dannett, whether proceeding from forgetfulness or design, must necessarily be erroneous...".
Philosophically he declared,
"...the cause of truth can never be promoted by a warfare of positive assertions...". (26)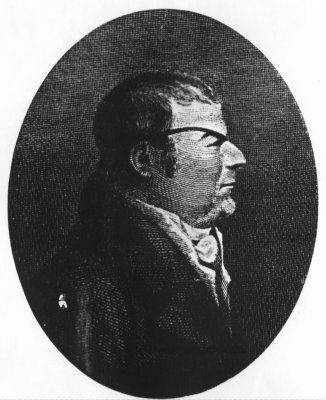 Edward Rushton (left)
Dannett was certainly keen to support his own position, as in October 1805 he requested a signed affidavit from the Committee of the School for the Blind to back up his claims regarding the foundation of the School. In reply, the Committee declared,
'In consequence of a publication by the Rev. H. Dannett, relative to the original project for the establishment of the School in which the affidavit is mentioned to have been left at the School and which Mr.Brand [Superintendent/Governor of the School] says was left with him for the purpose of general inspection, as this Committee are unwilling to interfere themselves or to permit any Servants of the School to be engaged in what appears to them to be a personal difference of opinion between the Rev. H. Dannett and Mr. J. Christie, it is resolved that Mr. Brand be ordered to send to the Rev. H. Dannett the affidavit which he received from him together with a copy of this resolution' (27)
The publication referred to has yet to be traced but may have been made as a form of 'signing off' or summary of his life in Liverpool, as in 1804 Dannett had moved to Hopton Wafers in Shropshire.
A study of Liverpool's histories and guide books published in the 19th century reveals little consistency regarding the founders; Dannett, Rushton, Christie, and Alanson all being mentioned and rarely at the same time.(28) One even mentions another name so far not considered (which occurs in the same company as Dannett, Rushton and Christie);
"...it is said indeed that the primary idea was suggested to him (Dannett) by Henry Arnold of Ormskirk, a blind lad who was afterwards admitted into the School on 1 August 1791 and quitted it in 1798. In 1797 he was appointed organist at the Parish Church in Halsall. He engaged extensively in the manufacture of corn sacks and seamens' hammocks at Ormskirk, supporting his Father and Mother and contributing to educate, support and fix out in life several of his brothers and sisters. He may now be said to be affluent..."(29)
The Plan to open the School is published in William's Advertiser 22 November 1790
This however,is the only attribution to Henry Arnold and did not appear until 1825.
Of the references to the Institution in the contemporary guides, no founders' names are mentioned at all in Moss' Liverpool Guide of 1796, and in Wallaces' Descriptive History of Liverpool(1794), he refers to Dannett as the projector of the Institution
"...who many months supported this Charity after its establishment and to whom the present success of the plan is principally indebted...". (30)
A further mystery surrounds the suggestion that the idea for a benevolent institution was first published in a local paper in July 1775. This is mentioned in Troughtons' History of Liverpool in 1810 (page 155), but gives no detail as to where or by whom it was written. Stonehouse, in his Streets of Liverpool(not dated; c.1870, p.94) suggests it was written by an anonymous writer in Williamsons Advertiser. Despite a search of the existing copies of the local press for that period, no such trace can be found, nor in any other form of publication. It may be possible that the 'Letter on the Education of the Blind' by 'Demodocus', published in the Edinburgh Magazine in November 1774, had reached Liverpool. It must remain a mystery.
It is certain, nevertheless, that the founding of the Institution cannot be attributed to one man alone. Rushton had the idea for a benevolent fund, which came from his discussions in the philosophical society; Christie, the idea for a kind of institution where the inmates could be taught music, therefore having a chance to make life more tolerable and to be able to support themselves; and Robert Lowe, who spent much time and effort circulating the letters. Roscoe, Smyth, and Carson played their part at the meetings, and Dannett brought together these men who were likely to make a significant contribution, and also put his name to the public announcements to give them credence. Alanson too played a small role in an advisory capacity. In addition, most of the group were known to continue their support during the early years of its establishment, though Rushton appears to be a notable exception -(in his incapacitated state and lack of musical talent this is not surprising). We do not know if he had any later involvement - his name is not mentioned in any of the School Committee notes or reports. The original founders therefore, are these eight men who all played a significant role in the early pioneering days of the School.
The opening of the School is announced in Williamson's Advertiser 3 Jan 1791
Rushton may have had the original idea of wanting to help alleviate the plight of the blind in some way, but Christies' expansion of this plan was closer to the actual manifestation of the Institution. Meanwhile, we must put this dispute to rest and return to look at the consequences of that second meeting at Dannett's house. The documents left with Reverend Dannett were drawn up into an official announcement as 'A Plan for Affording Relief to the Indigent Blind' and this was inserted in Williamson's Liverpool Advertiser on Monday 22 November 1790. (See Appendix IV)
The Plan contains much of the flavour of Christie's letter - certainly the opening paragraph, and the idea that the blind should not be burdensome to their friends, family or community, and would benefit from the instruction of music. The following week, the Reverend Dannett drew up 'Some Particulars Relative to a Plan etc.' as an addendum to the published Plan. This was dated 1 December 1790 and appeared in the form of a printed circular combining both the Plan itself and the 'Particulars' (See Appendix V).
The complete plan was ambitious from the very beginning. Not only did they intend to teach a member of the Blind persons' family to write and read music so as to help in the pupils' studies, but they also hoped to be so successful in their overall achievements as to be a model for other towns to follow suit and care for their blind in a similar manner.
On 29 December 1790, the Reverend Dannett submitted a further announcement to Williamson's Advertiser, which was published a few days later on 3 January 1791. (See Appendix VI). This was to be the final notice to the public, prior to the intended opening of the School in the second week of January, and advised how to subscribe to the Charity, what would be taught, and brief answers to the main criticisms already voiced. Unlike Paris, this Institution was planned to cater, where possible, for blind persons of almost any age - the first institution of its kind in the world. With the school due to open on 10 January 1791, the plan had finally reached fruition.
Commutation Row
The first building to be used by the school was quite unsuitable. Situated at 6 Commutation Row, opposite the potteries of Shaw's Brow (now William Brown Street), two houses recently erected were rented by the charity for the sole use of the school. They were much too small and by 1800 enough money had been raised to erect a purpose built school nearby on the site now occupied by the Odeon cinema on London Road. Designed by John Foster junior (later Architect & Surveyor to Liverpool Corporation) the school was now well and truly established and would stay on this site for the next 50 years.
Plan of the new school opened in 1800 in London Road
Rushton, meanwhile, regained his sight in 1807 following an operation by Manchester surgeon Benjamin Gibson, thus enabling him to see his wife and children for the first time in 33 years. Sadly, his wife Isabella died a short time later in 1811 as well as one of his daughters. Three months before his own death Rushton wrote to his friend Samuel Ryley about the loss of a mutual friend,
"Why friend Ryley are you so much afraid of dying seeing that it will come when it will come? If there be another world, let us do well here, and we shall do well there; and if there be not another world, there is a vast consolation in acting our part well in this." (31)
Brave words although rather unorthodox for the time. Rushton died on 22nd November 1814 of paralysis and was buried in St.James' Churchyard. Although not a great poet or a man of advanced political opinions, he was still a remarkable man for his time and a fighter for the under-dog and for freedom in its many forms. A contemporary called him, "A man of high moral qualities, of great intellectual endowments and of the most inflexible strength of principle".
Until now there has been little recognition of Edward Rushton's life and work. It seems that it is time this was addressed.
Mike Royden (1991)
(revised and extended 2001)
---
---
---
Select Bibliography

(full list in Pioneers and Perseverance, see also Appenxix I)

W. Shepherd, (Memoir of Edward Rushton: )Poems and other writings - with a sketch of a life of the Author' (1824).

Mary G. Thomas, Edward Rushton – N.I.B. Biographies No.1 (1949)

Michael W. Royden, Pioneers and Perseverance (1991) pp.25-39, p.262, portrait p.ix, print p.12, bust p.27.

H. Smithers, Liverpool – its Commerce, Statistics and Institutions (1825)

Edward Rushton Jnr, 'Biographical Sketch of Edward Rushton', Belfast Magazine (Dec 1814).

W.L. Rushton, Edward Rushton Jnr - Letters of a Templar (1820-1850) (1903)

Proctor Literary Reminiscences (1860) p.141

T.W.M. Lund, Blindness, or Some Thoughts for Sighted People (Sermon preached in the Chapel of the Royal School for the Blind Liverpool, Feb 20th 1887) (includes Appendix A – A Sketch of the Life of Edward Rushton, the Blind Poet (1887)

Sir J.A. Picton, Memorials of Liverpool (1878) vol I p.426, vol II p.166, 215

Bowker, Liverpool Celebrities (1876)

Bannister, Worthies of the Working Classes (1854) p.7

Frazier Guide to Liverpool and Birkenhead (1855) pp.289-292

Iconography

Portrait – original by Moses Houghton hangs in the Committee Board Room at the Royal Liverpool School for the Blind, Wavertree, Liverpool.

Cameo Print – reproduction in Royden (1991)

Bust – sculpted by Gibson (1815) whereabouts unknown – missing from Blind School on their return from evacuation 1939-46 (School occupied by armed forces). A full size copy is held at the present school building Wavertree, Liverpool – photograph in Royden (1991).

Edward Rushton – Numerous Writings 1782-1806 notably;

The Dismembered Empire (1782)

West Indian Eclogues (1787)

Will Clewline (1806)

contained in two collections of verses:

Edward Rushton, Fugitive Pieces in Verse (1806)

W. Shepherd,ed. Edward Rushton - Poems and other writings - with a sketch of a life of the Author' (1824). (a second edition of the 1806 work, plus other writings such as his letter to Washington and an 'Essay on the Causes of the Dissimilarity of Colour in the Human Species')
---
| | | | |
| --- | --- | --- | --- |
| | Return to Home Page and Site Links | | Local History Contents Page |