The Holy Trinity
| | |
| --- | --- |
| | |
(Photos: Rob Sawyer, Everton FC Heritage Society)
On 3 May 2019, Everton unveiled their new statue commemorating the Holy Trinity – Howard Kendall, Alan Ball and Colin Harvey – outside Goodison Park, immediately prior to the last game of the 2018/19 season against Burnley.

The Everton Fans' Forum worked closely with the club on the project, and Tom Murphy, who also created the famous Dixie Dean statue at the Park End, was commissioned to carry out the work.

What he has produced is a worthy tribute to the three Everton greats who have played a significant role in the club's history.
| | | |
| --- | --- | --- |
| | | |
| EFC tweet, with film clip | Echo report and video | Everton FC Heritage Society tweet |
Dr David France with Rob Sawyer (Everton FC Heritage Society)

Jamie Yates (Everton Fan's Forum / Everton FC Heritage Society)
with Dr David France

Lewis Royden

The Colin Harvey panel (photos by Rob Sawyer / MR)
Howard Kendall with Lewis Royden back in 2001
- the Hall of Fame mascot
Brian Kendrick with our old pal Mike Hughes (Radio Merseyside)

Great to meet up again and catch up with old friend David France who had travelled (yet again) from his home in America to be at Goodison.
(Dr France OBE, aka 'Dr Everton', created the incredibleThe Everton Collection and also founded the Everton FC Heritage Society).

Everton FC Heritage Society members in St Lukes
Dr David France, Ken Rogers (former Liverpool Echo Sports Editor), MR, Richie Gillham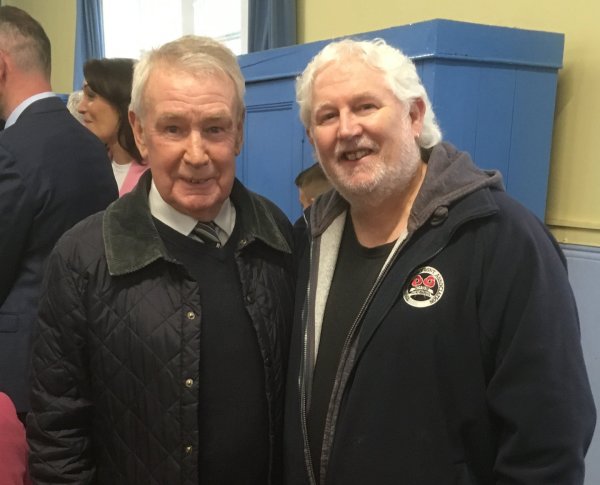 | | |
| --- | --- |
| by David France & Becky Tallentire | |
| | |
| | |
| | |