The Everton Collection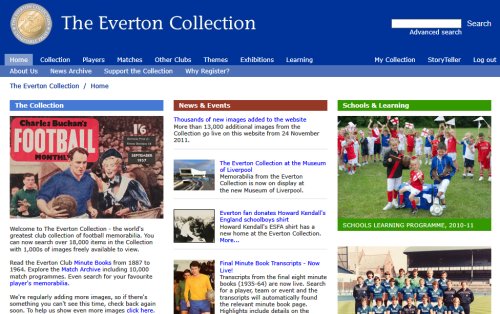 The David France Collection
The David France Collection is regarded as the finest compilation of football memorabilia in the world. Put together over several decades by superfan Dr David France, it is a unique collection of artefacts, letters, medals and other ephemera. The depth of the collection is absolutley staggering, and Dr France's story in how it was put together is documented in
Dr Everton's Magificent Obsession
written with David Prentice, a fascinating read [See panel link right]. Articles about the Collection, and the history it reveals, are regularly featured in the Everton matchday programme, and on the Everton FC Heritage Society website (as they are researched and written by members).
The Everton Collection
The Everton Collection Charitable Trust, an independent charity, chaired by Lord Grantchester and run by a board of trustees of Everton fans and senior heritage specialists, purchased The David France Collection with support from the Heritage Lottery Fund on 31 December 2007, shortly after Everton FC had gifted the Club's own archive to the Trust. Both archives were then combined to create The Everton Collection. The Collection is still owned by the Trust and is housed at Liverpool Record Office.
How to view it online
A dedicated website stores thousands of images from the collection, free to view, with a searchable database of over 18,000 items. The image below shows the items laid out into categories. (Links to this external website).
How to see the collection
Memorabilia from the Everton Collection is often put on exhibition from time to time in local museums, Liverpool Central Library and Everton FC retail shops, while other items are exhibited at Goodison Park.
Use by Researchers
Access to the Collection is open to researchers, although 48 hours' notice is essential to view items at the Record Office. A reader's ticket is required, which can be issued by providing proof of name and address. (Download application form)
However, not all original items are available to view, and this applies to anything that has been digitised for the website, or transferred to microfilm. It may be worth checking with the record office before you visit.
The Liverpool Record Office Information Leaflet containing all relevant detail and advice is available below.
(Pictured: (left) Dr David France and (right) Lord John Grantchester )

---
Everton FC Heritage Society Articles
Ken Rogers reveals early sponsorship at Everton
(from Everton v Man City matchday programme 28 Sep 2019)
---
---
Mike Royden's History Pages
---