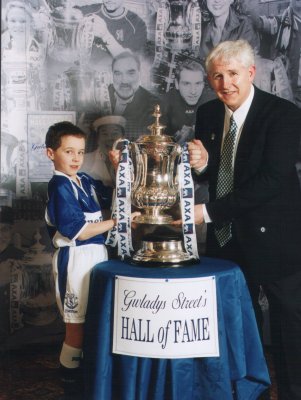 This is not a large site and there are more comprehensive Everton sites elsewhere doing an excellent job. I am not trying to emulate them, but there are a few photographs here which will not, or are unlikely to appear on other sites. Because of the limited scope of this site there will be limited expansion. My main site is the Local History site linked opposite. But the more Everton FC material on the web the better I say.
And as a professional historian I can only add....
And if - yer know - yeristory,
its enough ter make yerart go
wo wo wo wo....
A Family of Blues - Three Generations
From this,
(Lewis' first game in 1993)
to this,
to this - in only seven years!
Where to next?
Liam
With my Father (Bill Royden 1929-1998) in the exec suite at Goodison 1990
My Father with Big Nev
The Lock Up
Designed by Mike Royden
of Mike Royden's Local History Pages
copyright Mike Royden
Pages may be reproduced by permission