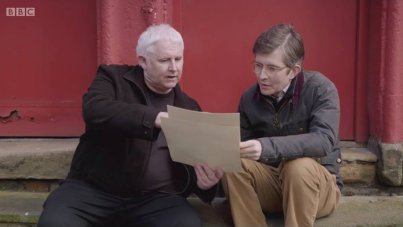 Who Do You Think You Are? - BBC Series 12 - Gareth Malone
Choirmaster Gareth Malone's passion for singing is in his blood - his parents met singing in musicals, and Gareth grew up surrounded by music. But he wanted to know how far back his music gene goes and set off to find out more.

His investigations into his mother's side of the family took him to London's West End, where he found his great-great-grandfather, a star of musical comedy, performing for the king, George V. But it was when he began to search two more generations back when his journey brought him to Liverpool. Gareth began to explore the life of his 4 x great grandfather, a Leeds mill worker turned theatrical impresario Daniel Lowery. In the 1851 census, and after a bit of trouble deciphering the handwriting of the enumerator, he worked out that his ancestor was a singer.

Moving to Liverpool, Dan used the newspapers to increase his popularity to the point he erected a statue of himself outside his music hall and began to climb the social ladder.

It was my role to reveal Dan's life as a singer in Liverpool, music hall impresario, and would-be politician to Gareth.

Victorian music halls were the social centres of their day, and so Lowery's business allowed him to meet all manner of people, from sailors and prostitutes in Liverpool's docks to Gentlemen and Captains. With these contacts, Lowery tried and failed to become an elected member of Liverpool's city council in 1870.

Standing in a mainly conservative constituency that denounced his candidacy as a joke, Lowery did not win his seat, and so moved to Dublin where he set up another music-hall in 1884. It was a true variety venue, with singers, performing mules and ballet acts. By this time, he has been joined by his son, Thomas Lowery, who has changed his name to Daniel Lowery junior to continue the Dan Lowery Music Hall business. Daniel Lowery Senior died in 1886, but was immortalised in a portrait hanging at the theatre he founded, which still survives as the Olympia theatre in Dublin.