| | |
| --- | --- |
| | |
---
Menin Gate Memorial to the Missing, Belgium
Researching Soldiers and Ancestors
---
Searching for Sergeant 12735 Thomas Pickthall Yeadon

On our battlefield visits we try to visit the graves or memorials of ancestors of the students who are on the trip, and in this case we were trying to put together record of Sergeant T. Yeadon of the 7th Battalion Prince of Walesís Volunteers (South Lancashire Regiment).

Before we left on our trip we had already carried out preliminary work back in school during several lunchtimes. We were able to trace back Chloe Yeadon's family line a couple of centuries, while also piecing together the movements of Sergeant Yeadon.
Sadly, we discovered that the body of Sergeant Yeadon was never found and consequently he was recorded on the Menin Gate Memorial. After our visit to the nearby In Flander's Field Museum, Chloe set off with a group of friends to find her ancestor's name on the memorial.

Later that evening Chloe had a second appointment at the Menin Gate, when she was to lead the evening ceremony with Connor Brizell (click right). When we introduced Chloe to the organisers and let them know her ancestor was recorded on the Gate, they made quite a fuss of her and took her off to be introduced to several of the dignitaries and V.I.P.s in attendance, to cap off a memorable day for her.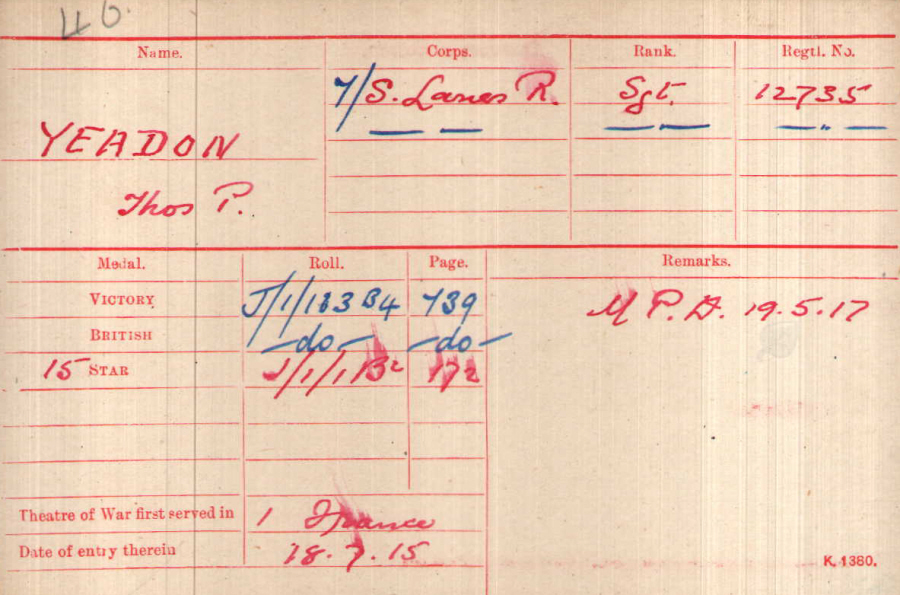 Sergeant 12735 Thomas Pickthall Yeadon
7th Battalion Prince of Walesís Volunteers (South Lancashire Regiment)
(1887-1917)
Thomas Pickthall Yeadon was born in 1887 in Kendal (near the Lake District), the son of John Yeadon, a textile worker, and Agnes Pickthall. By 1901, aged 13, he was working as an errand boy for a greengrocer in his home town. In 1911, at 23, he had found a job as a horseman on a farm just west of Kendal. He was still single and his parents were still living in the town centre, although his father died the following year.

After the WW1 started, Thomas volunteered for the army and enlisted at Seaforth in North Liverpool, for the Prince of Walesís Volunteers (South Lancashire Regiment) and was posted to the 7th Battalion. After several months training in Tidworth and Andover, the 7th Battalion proceeded to France, landing at Boulogne on 18th July 1915, and sent to camp near St Omer. Their first action was at Pietre, in the Battle of Loos. In 1916 they were in action during the Battle of the Somme, capturing La Boisselle and being involved in the attacks on High Wood, the Battles of Pozieres Ridge, the Ancre Heights and the Ancre. Then in 1917 they were sent north to Belgium to help defend the town of Ypres. Thomas was now aged 29 and had risen to the rank of sergeant. On the night of the 18-19th of May 1917, the 7th South Lancs sent out a patrol over the trenches into no manís land near St Eloi to the south. Commanded by 2nd Lt Burdett, this was quickly spotted by the Germans and came under fire. Very quickly the casualties mounted. Burdett himself was wounded and 2 NCOs and 4 other ranks were found to be missing. One of the NCOs was Thomas Yeadon. He did not return and his body was never recovered.

His name is now listed on Panel 37 of The Menin Gate Memorial to the Missing in Ypres.

Thomas Yeadon is the great-great-uncle of Chloe Yeadon (the brother of her great-great grandfather)
---
---
Updated April 2013 by Mike Royden