Private Thomas Mounsey
30261 18th Bn. The King's (Liverpool Regiment)
Died 1 July 1916 Aged 22
---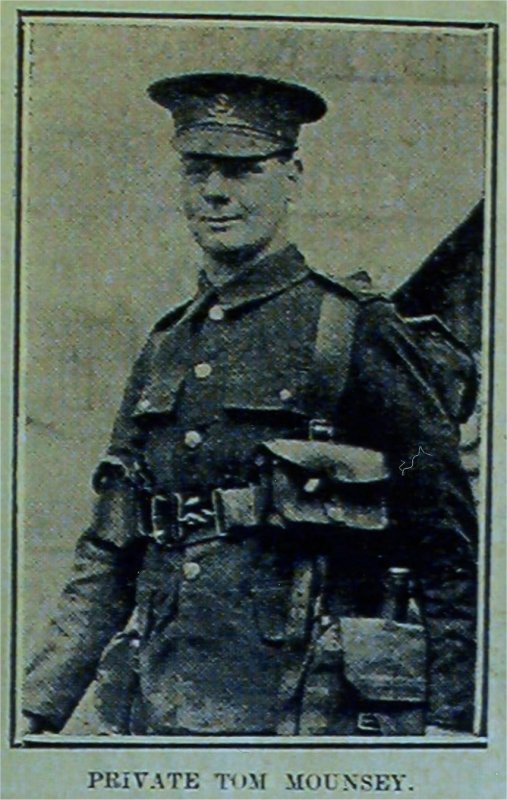 Thomas Mounsey was the only son of Councillor Tom Mounsey and a well known Ellesmere Port Tradesman. He joined the Liverpool Pals in the Kings Liverpool Regiment with his friends and fellow 'Portites' Private Wal Stanley and Private William Lock on 31st July 1915. At the time of his death he had been in France six months and had seen much trench warfare
Thomas had been his his father's right hand man in their clothiers at 54 Dock Street which was called "Mounsey outfitters", and since his going to war Councillor Tom Mounsey had had an enforced partial absence from public affairs, due to the demands of his business.
Thomas Mounsey lived at 7 Enfield road which still exists now but as a shop. He was the only son of the Councillor Mounsey who was married to Frances Jordan Mounsey who lived at 12 Grosvenor Street, Ellesmere Port. Thomas died on 1 July 1916 - the first day of the Battle of the Somme which claimed almost 20,000 lives on that day alone.
He was buried at the "Dantzig Alley British Cemetery, Mametz in the 'Vernon Street' section.
The local press carried the following report;
' Three Ellesmere Port Men Killed. ' We regret to record the death in connection with the grand British offensive in France of private Tom Mounsey, Private Wal Stanway and Private Wm Lock each of the Liverpool Pals.
Tom was a fine young fellow of 12 stones, tail and handsome. He was engaged to one of the daughters of Mr & Mrs James Atherton of the Great Eastern Hotel and formerly of the Canal Tavern, Ellesmere Port.
Numerous letters of sympathy have been received by Councillor, Mrs & Miss Mounsey in the death at the front of Tom Mounsey and one of the most cherished letters is the following which has been sent from the Conservative Club.
Reference was made at a meeting of the committee of the Conservative Club on the 21st inst to the sad bereavement. So nobly sustained by yourself, your dear wife and the boy's dear sister. It is with feelings deep and heartfelt that we convey to you the sentiments of brotherly sympathy and token in your hour of trouble. We sincerely hope that you may find consolation in the thoughts that your noble son died of Christian soldier, fighting his countrys battle for freedom and liberty. Yours in deepest sympathy C D Dodd, Secretary.
Concerning the late Pte Mounsey, his captain K B Stoddart who thought so much of him has sent the following letter to the family.
' on behalf of the Officers and Men of his company, I wish to express our deep sympathy in the loss of your son killed in action on the July 1st. Ever since he joined us he has been invariably liked and respected by his comrades and he has always done his duty on every occasion in the most splendid manner. In the wonderful charge they made so successful on July 1st, it was devotion to duty which won the battle. It may help you a little in your sorrow to know how nobly your son died and how he was loved and respected bay all. '
DANTZIG ALLEY BRITISH CEMETERY, MAMETZ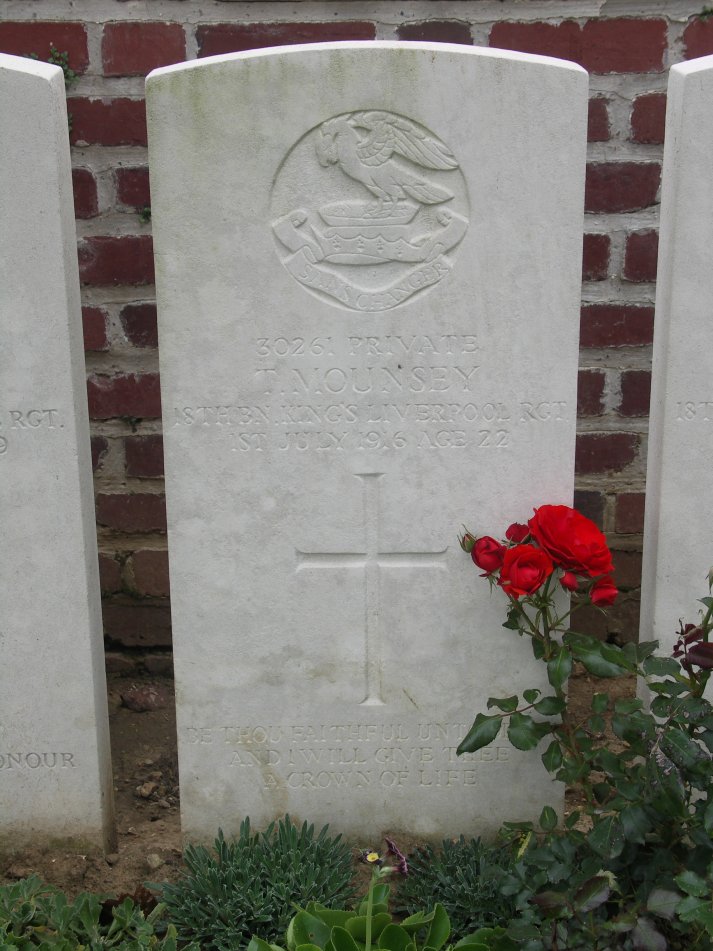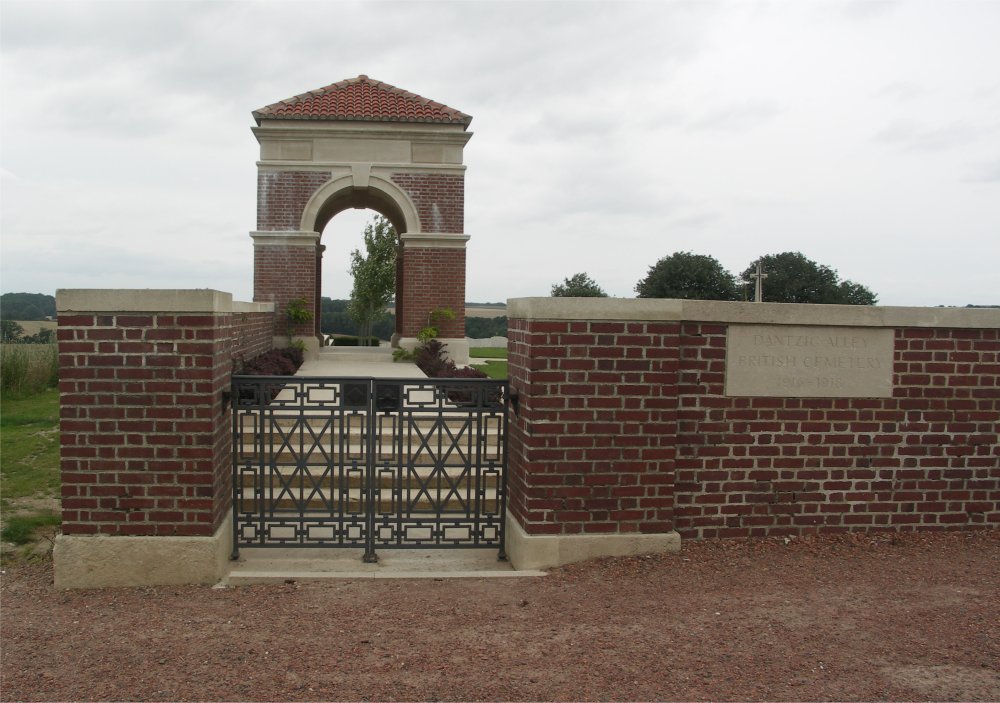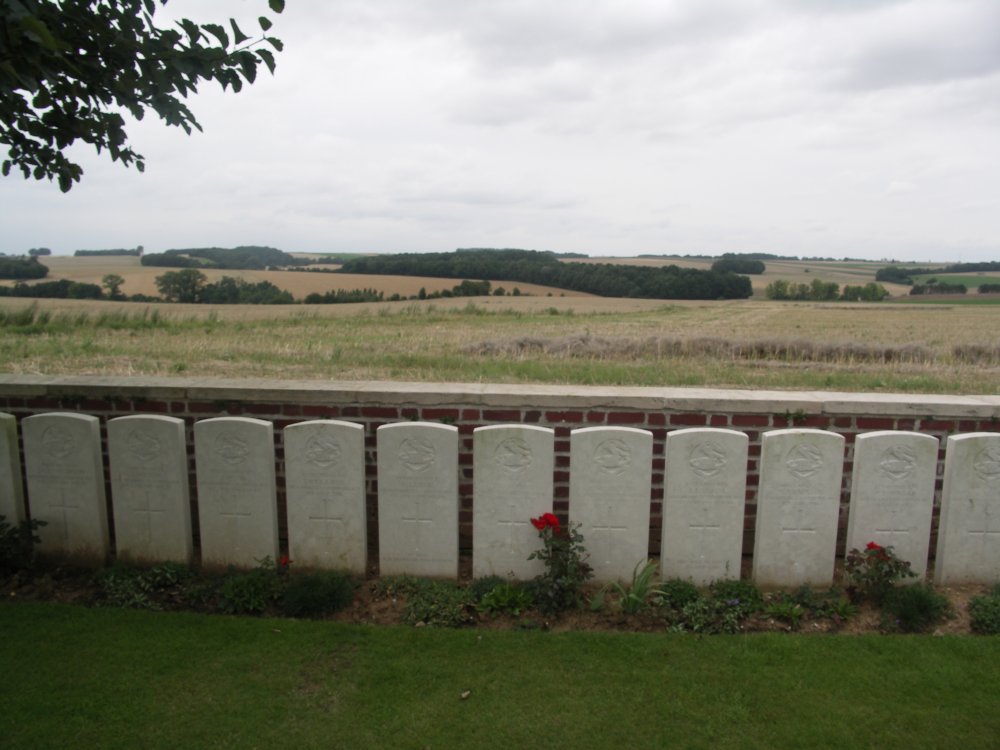 DANTZIG ALLEY BRITISH CEMETERY, MAMETZ
VERNON STREET CEMETERY, CARNOY, in the valley between Carnoy and Maricourt, at a place called "Squeak Forward Position".
Thomas grave is marked by the rose in the centre. (Cemetery photos - M.W.Royden July 2007)
Thomas in Ellesmere Port
| | |
| --- | --- |
| | |
| 7 Enfield Road, Ellesmere Port, as it is today, the former home of Thomas Mounsey | Above top is a picture of Dock Street in the time when Thomas Mousey was alive, he also worked here, in "Mounsey Outfitters" which is the second shop in from the left. This picture above is a close up. |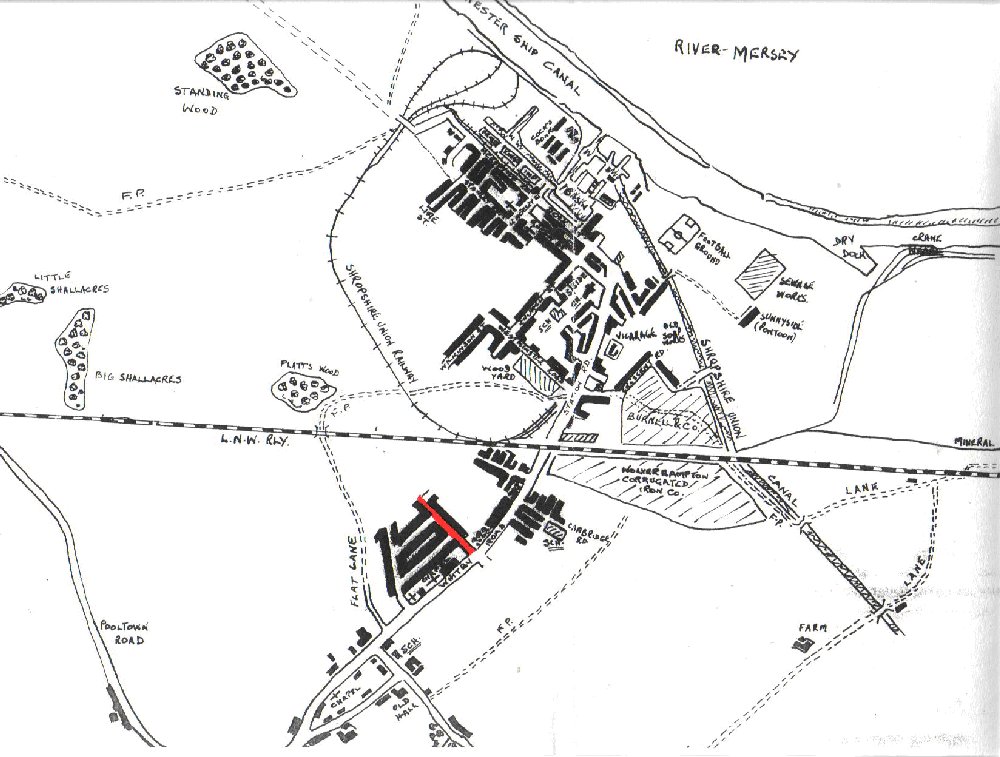 Enfield Road is highlighted in red
Steven Williams (Year 9 2007)
---
---
www.roydenhistory.co.uk
Visit the Royden History Index Page listing web sites designed and maintained by Mike Royden
No pages may be reproduced without permission
copyright Mike Royden
All rights reserved